---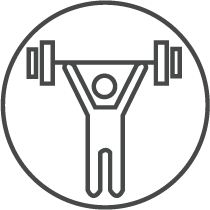 ---
eCollect is Australia's leading membership based debt recovery agency in the fitness industry with more than 1000 franchised and independent gyms and fitness clubs utilising our services.
We like to call it Membership Recovery because not only do we collect your outstanding arrears but we have a focus of attempting to re-engage your members back to the club and training again.
With our no-recovery no-charge fee structure (conditions apply), gyms and fitness clubs have the confidence to send through as many files as they like knowing we will only charge a commission fee after achieving a successful result. We cover the cost of everything including letters posted in the mail, sms's and staff to work on your behalf.
Our unique online portal provides our clients with the direct login to our site giving them ability to track everything we do on fully live and transparent basis, from copies of letters, SMS's and emails as well as detailed notes of every interaction we have with your members.
The key points of our service are
No sign up fees
No lock in contracts
No debt lodgement fees
No yearly fees
2 physical letters sent via Australia Post without cost to our client
Unlimited free SMS's
A dedicated Account Manager overseeing the daily operation
Demand letters on E C Legal letterhead without cost to our client
All potential commission charges to you are attempted to be passed on to your debtors (where your T&C's permit us to do so)
Live transparent system that you can track every action we do
Copies available of all documents, notes, phones call, emails, receipts are available on every matter keeping your staff in the loop at all times
We will only want 2 things from you:
1. Commission on any monies received from the work we've done; and
2. for you to tell all your friends in the industry about us.
eCollect is an ISO9001-2004 certified debt recovery agency licenced to operate in all regions of Australia and New Zealand.
Debt recovery is provided on a No Recovery, No Charge basis. Terms and conditions apply.
eCollect has specialist collection staff.
10 years operation in New Zealand and 20 years in Australia.
Dedicated account managers on your matters from start to finish.
Online client portal for real time access to your files.
In house legal should your matter require litigation.
If collecting outstanding accounts was easy, you would already have the money.
No charge for lodging a debt.
No upfront costs and no costs without your express approval.
We share the risk with you because we all work on commission. We only get paid if you do!
Debts of any size.
You have nothing to lose and everything to gain.
We collect your money as if it was ours™ Getting started Your eCollect BDM will create an Authority to Act for you. This will detail your rates and confirm that eCollect is able to act on your behalf for the purposes of recovering the debts that you lodge with us. Your rates may be a sliding scale to accommodate different value debts.
Confirming demand
Your current terms and conditions may impact on the demand issued. A legal practitioner will review the terms and conditions on your behalf to confirm what can be demanded from your debtor. There is no charge for this review.
Submitting a debt
Being able to provide a debtor with evidence is their debt is a legal requirement. When submitting a debt for recovery, we require contact details, the invoice and or contract and confirmation that the debt is free of legal dispute.
Reporting
eCollect reporting is by the calendar month.
eCollect client portal – available at all times via secure password and website. Contains all reports, payments, invoices, statements, file notes and correspondence relating to your matters. Your ecollect BDM will assist you.
Email a combination of automated emails and monthly statements will be provided at milestones such as a payment received.
Your eCollect team
BDM – your BDM is your primary point of contact for all business related matters. They will provide training and assist with debt uploads. They work on commission.
Account Manager – your debt collector is a subject matter expert in their industry. They will be assigned to your account and will see all matters through from lodgement to completion. They work on commission.
eCollect Senior Management - day to day operations are managed by the BDM and AM but eCollect senior management are always available to you.